Want to know about pink stones in jewelry? Learn about pink gemstones and rose-colored crystals here for your next pink jewel purchase.
Are you looking for the best pink gemstones used in jewels? Believe it or not, you've got options! When it comes to learning about pink stones in jewelry, figuring out which stone is right for your needs and looks is one of the best places to start.
In this post, you'll get some great information that will help you decide what stone is best for purchasing and using in your jewelry. (and it just might not be the one that you think!)
Pink Stones in Jewelry: Best Pink Gemstones Used in Jewels
What is the name of a pink precious stone?
There are actually many pink precious stones to learn about and know about. They make up a large portion of the pink stones that are often used in jewelry. Some of the most common types of pink stones are:
Star Ruby

Rhodonite

Pink Opal

Pink Fluorite

Morganite

Pink Spinel
And while those aren't all of them, those are some of the more common ones that people tend to look for or you'll find in jewelry already. Of course, as everyone knows, the pink stone that you choose is going to all come down to your preference and your price point.
What stone is dark pink?
There are also different shades of pink to think about as well. Some prefer a lighter pink coloring because it can feel a tad bit more feminine but there are shades of dark pink as well that are quite beautiful, too.
The dark pink stone is known as a Morganite. It can often be so dark that it can have a look of orange to it as well so if that's something you're not interested in, keep that in mind.
This type of pink stone has gained popularity throughout the past decade because it tends to pair really well with gold and rose gold jewelry.
Are pink sapphires rare?
They used to actually be quite rare back in the day. And while they still fall into the "rare" category, they're not as rare as they used to be. There was a new discovery of pink sapphire found in the 1990s that has made this a more prominent stone than it once was.
Are there pink diamonds?
There are! Pink diamonds are a thing and are quite beautiful, too. Typically, however, when there is a pink diamond formed or found, it's done in conjunction with another color to give it that pink look.
What does a pink gem mean?
A pink gem can have a different meaning to different people but for most, it's a simple symbol of love. It's also a sign of affection and admiration as well and you'll typically find that it's worm by females, rather than men.
(This isn't to say that men can't wear them. It's just to showcase that most times, pink gems are displayed on female jewelry instead.)
Now that you know a little bit about the history and the "why" of pink stones, let's talk about some more of the most popular pink gemstones as well.
More Popular Pink Gemstones to Know
Pink Sapphire

Garnet

Rose Quartz

Ruby

Pink Pearl
All of these pink gemstones listed above are ones that you'll find in rings, necklaces, pennants, earrings, bracelets, and more. Each one will have a distinct pink coloring but it will vary between a light and a dark shade of pink.
When it comes to choosing a pink gem or stone that suits you, consider all the options before making a purchase. Since there are varying levels of pinkness in stones, you will need to decide if you're going to go after a light pink or darker pink as well.
Some pink stones can actually be so dark that they might ultimately look redder in color than pink. However, out in the sunlight, they'll probably look a bit lighter and more pink at that point in time.
As long as you're talking to your jeweler about the cut, size, and price of the pink gemstone that you're going after, you should be able to find a fit in the choices that you have. Just remember – the rarer the pink stone, the higher priced it's going to be!
When it comes to pink stones in jewelry, do you have a top pick that catches your eye?
Best Pink Gemstone Jewelry From Amazon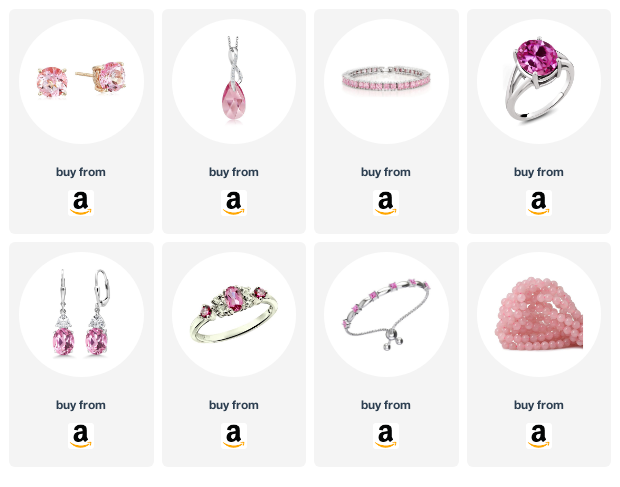 Best Pink Gemstone Jewelry From Etsy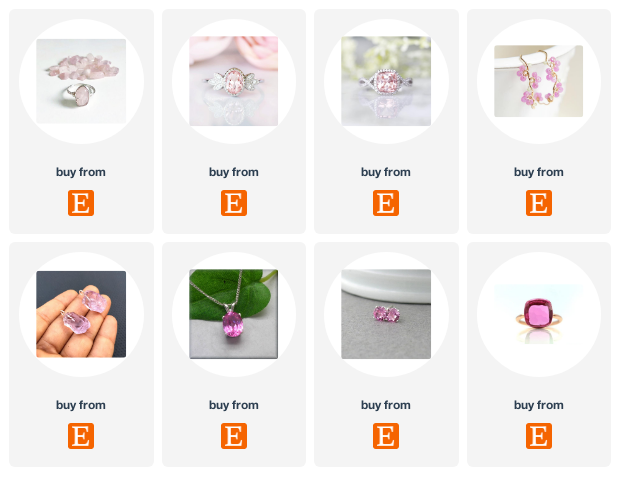 RELATED:
Yellow Stones In Jewelry: Best Golden Gemstones Used In Jewels
Red Stones In Jewelry: Best Red Gemstones Used In Jewels